The crowd was ecstatic on Centre Court, as British wildcard Liam Broady stunned fourth-seeded Norwegian Casper Ruud 6-4, 3-6, 4-6, 6-3, 6-0 to reach the third round.
Ruud had never lost a Grand Slam match to a player ranked as low as No. 142 Broady.
This was the first time Ruud faced a British player at Wimbledon.
In his post-match press conference, Ruud said: "Yeah, well, I think first of all, Liam played really well. He deserved the victory, for sure.
"I was pretty happy, especially honestly the first four sets. I started good, then kind of messed up a little and lost the first, but bounced back and won the second and third.
"Fourth just got away unluckily in the beginning. He broke me. I couldn't break back. In the fifth, he was just dominant.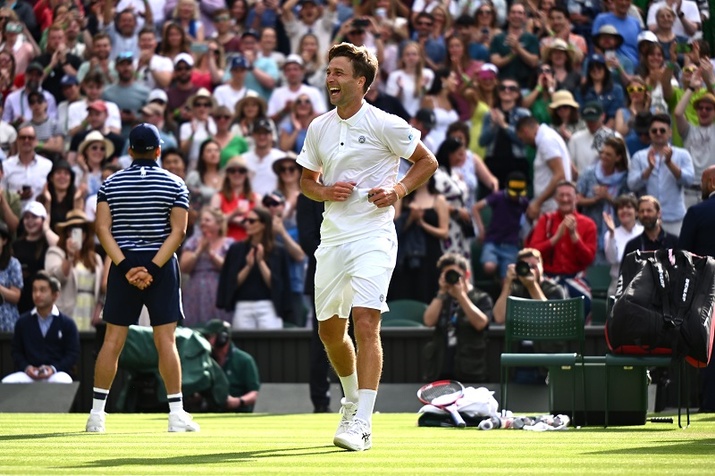 Credit: Getty
"Yeah, all in all, I think was a quite good Wimbledon for me. The best one of my career so far, reaching the second round. Losing in a tough five-setter. That's how it goes sometimes.
"Getting more experience here at Wimbledon is fun. Playing on Centre Court was amazing."
Ruud explained: "I mean, if you look at what kind of player he is, what kind of player I am, there's no doubt that I think he's a much better grass court player than myself. He has more experience. His shots are much more effective than mine on grass.
"He moves probably better. You could see I was slipping a little here and there, losing my balance. He has a tricky lefty serve, which is tough on the grass where it skids off.
"To me of course ranking-wise it's an upset, but going out of the match I consider him a better grass court player than myself due to the fact of the things I said earlier.
"It's nice, I think it's really nice, to see at slams when people either from quallies or wildcards get the opportunity to play on the big stage and they do well.
"Liam playing here at home, I'm sure this was a good victory for him. I hope that he can continue and have a good run here at Wimbledon. I think if he plays the way he played today, I think he has good chances of reaching top hundred within the year. I think that should be a realistic goal for him."
In his post-match press conference, Broady spoke of why his game matches up so well on grass: "I think the way I hit the ball. Obviously being a lefty, as well, we use a lot of slice as lefties into the backhand of opponents. I'm quite comfortable around the net, coming forwards. I quite like to slice. All very effective on the grass. Yeah, my backhand is very flat. My forehand isn't exactly the spinniest either.
"That's the one thing with Casper is I think the way he hurts players is with heavy spin. On the grass that counts for nothing, really. It's more about the feel shots. I thought he actually sliced really well today.
"I just think some small adjustments here and there about the way he hits the ball. There were maybe two second-serve returns in the match he stood on the baseline, took on the rise, he hit them really well. I think he is able to do it.
"I think maybe he could probably do that from the baseline, as well. He sometimes sort of moves back on the backhand, let's it drop, then tries to go back with height. On the grass, it's not worth much. You have to be able to sort of take the ball on and hit through it. I saw him do it today a few times.
"Again, I think he would be able to make that change."
Next up for Broady is Canadian Denis Shapovalov.