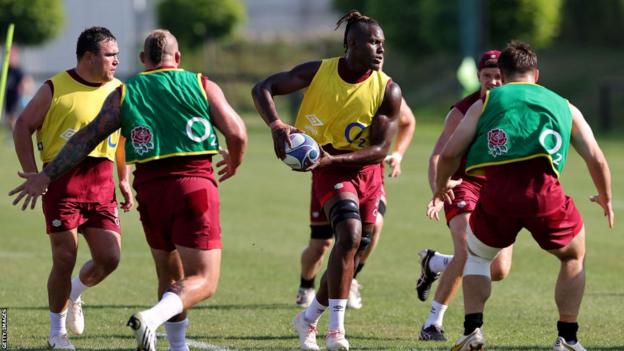 England's players have been challenged to develop "physically, mentally, and tactically" in the oppressive heat of their Rugby World Cup training camp.
Temperatures have hit 40C this week at the England team base in Verona, northern Italy.
Steve Borthwick hopes the conditions will prepare his side for the "extreme moments" of a World Cup fixture.
"You've got to be physically equipped for the toughest situations in the game," head coach Borthwick said.
"There are extreme moments within the game and Test matches are so tight. So if you are not conditioned for those extreme moments, those are the ones which can make or break you.
"If you are conditioned better than the opposition for those extreme moments, you get the crucial score at that point.
"Or [if you are not] you concede the crucial score, or you make the poor decision or the great decision.
"So you need to be conditioned and physically equipped for how you want to play in the toughest circumstances of a Test match."
Borthwick says he decided along with head of physical performance Aled Walters to train in heat rather than at altitude this week, citing three benefits of training at high temperatures.
"One is for physical adaptation and the physiological benefits of training [in the heat]," he explained.
"The second thing is training in the heat also affects the way you think, and I've experienced it as a player.
"How you think clearly under a different type of pressure, and challenging the players to think in the situations we give them when they are under the physical and emotional strain of training in the heat.
"So we are here to develop physically, we are here to develop how we think, and we are here to develop tactically.
"We've given them what the tactics are going to be for the week and what area of the game tactically we are going to develop here this week.
"I believe in giving the players clear direction on the purpose of why we do what we do. So it's specific and directed."
All 41 of England's World Cup training squad are present in Verona, with Bath centre Ollie Lawrence also in camp as he makes an encouraging return from a knee injury.
Lawrence, the 2023 Premiership player of the season, is in line to make a return in time for the bulk of England's August warm-up matches.
The injured quartet of hooker Jack Walker, prop Mako Vunipola, lock Ollie Chessum and number eight Billy Vunipola are all continuing their rehab at home.
Borthwick has backed his strength and conditioning department to take England to a new level of conditioning before the showpiece in France.
Welshman Walters, who joined the England set-up in June from Leicester Tigers, was a key part of South Africa's 2019 World Cup-winning squad under Rassie Erasmus.
"We've got Aled Walters leading that section of the programme, who coached a team in 2019 to be very, very fit; they were conditioned brilliantly," Borthwick added.
"The person who was leading the England programme in 2019 was Tom Tombleson, who is assisting Aled Walters.
"So I have got trust in two guys there that I know understand the minutiae of how to prepare a team to get to the latter stages of the tournament."
England play four warm-up matches in August before opening their World Cup campaign against Argentina in Marseille on Saturday, 10 September.