On Day 5 of Wimbledon, which had the best weather so far of this rain-delay tournament, sunny and warm but with a cool breeze, sixth-seeded Holger Rune of Denmark was on Court 3 again. He defeated Roberto Carballes Baena of Spain in straight sets, 6-3, 7-6(3), 6-4, to reach the third round.
\In his post-match press conference, he was asked if he'd had a chance to practice on any other courts, since he's only played on Court 3.
He answered: "I did practice one time on the main side, and it was actually on Court No. 3. I have only played on Court 3 so far." Then he smiled.
To be fair, the No. 3 Court at Wimbledon is beautiful. You have a view of the treetops and a church steeple in the distance.
Watching Rune today, I was most impressed with his creative variety. He has a powerful serve and groundstrokes, but he can also take the pace completely out of the ball with a perfect drop shot or drop volley.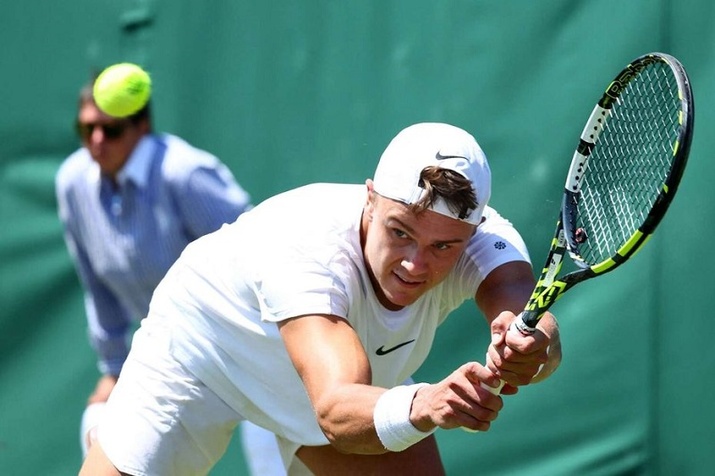 Toby Melville/Reuters
Rune explained, "I don't feel insecure anymore on the grass. I just think sometimes it's not only about hitting hard. It's also about playing the right shots, make the opponent play in the important moments.
"You know, I think today, especially against a player like Baena that really likes the pace and likes when the opponent misses, I think it's important to be patient. Often when I was patient today, I won the point. So, I did what I needed to do."
Rune also spoke about working on his movement on grass. "Yeah, I think I worked a lot with my fitness coach Lapo on the movement stuff.
"Then for my mindset it's really been just playing the same game as I play on clay and hard courts. On clay and hard courts, I trust my game, I come to the net.
"You know, that's also what I have been trying to do here on grass, to play as similar as possible. You know, I don't play like so much spin, so it's still effective on grass if I play the way I play on other surfaces."
 Rune talked about the creative shots that can happen on grass. "Yeah, I think I use the slice more, the dropshot. I use some more like unorthodox shots on grass than I would do maybe on other surface.
"Still, again, I try to play the same tennis as I play on other surfaces, and, you know, the main adjustment is just movements.
"But I think it's fun. I think, you know, when you make a good dropshot, it's very, very effective, because the bounce is almost nothing. It's a fun surface to play on."
Next up for Holger Rune is Alejandro Davidovich Fokina of Spain. They are scheduled to play Saturday on No. 3 Court.