There's no secret to the fact that the Rockies enter the 2023 trade deadline in position to be sellers. General manager Bill Schmidt already told Patrick Saunders of the Denver Post last week that he's received particularly high levels of interest in his veteran relievers. Within that same interview, Schmidt noted that he'd entertain offers on position players, but it would take a "legitimate" offer on someone like catcher Elias Diaz, who's signed through the 2024 season, for the Rox to consider such a move.
It's understandable for any baseball operations leader to take that stance. Any general manager or president of baseball ops is going to insist on a quality return — particularly for a player with multiple seasons of affordable control — unless ownership is simply mandating that they slash payroll. That's clearly not the case in Colorado, where owner Dick Monfort annually broadcasts optimism about his team's chances and is generally willing to spend (to varying extents) in free agency and via extensions for in-house players.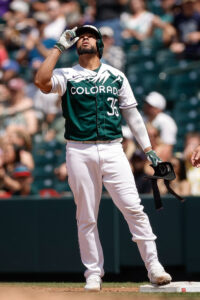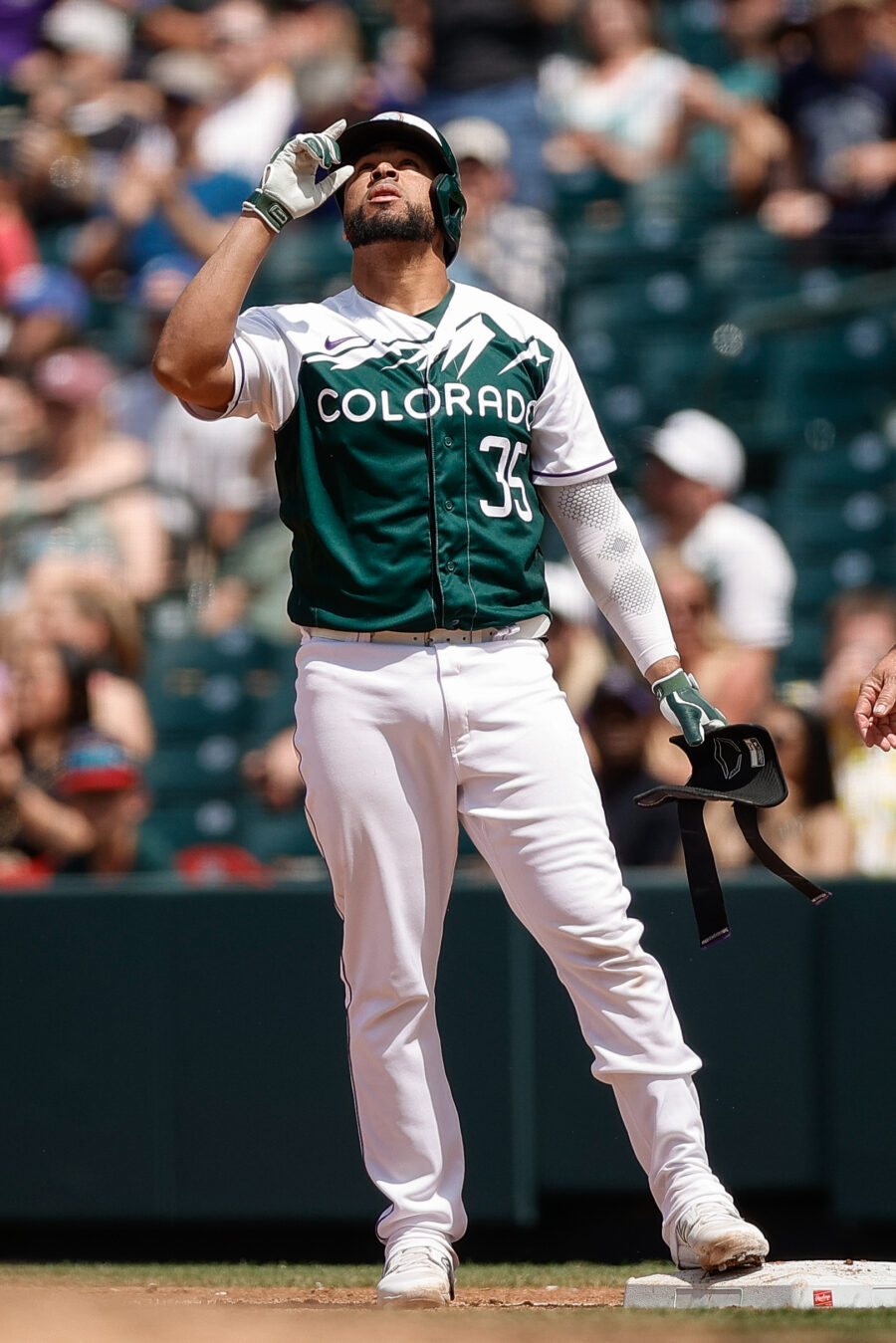 Diaz, 32, is a first-time All-Star this season, thanks largely to a .277/.328/.435 batting line. He's smacked nine homers and added 15 doubles and a triple while walking at a 7.2% clip against a 21.3% strikeout rate. It's not exactly elite production; wRC+ pegs him nine percent below average after weighting for his home park, and OPS+ has him four percent below average. However, relative to other catchers throughout the league, Diaz has been quite productive. The average catcher in 2023 is hitting .233/.300/.384. Even when adjusting for home park and league run-scoring environment, catchers have rated 13% worse than average at the plate, by measure of wRC+. In that regard, Diaz has been an above-average hitter relative to his position.
Of course, that's just one season. Diaz's offense has been a roller coaster throughout his career, peaking with a .286/.339/.452 slash (114 wRC+) in a much more pitcher-friendly Pittsburgh setting back in 2018 but at times bottoming out as it did just last year, when he hit .228/.281/.368 despite playing half his games at Coors Field. He's had some good fortune on balls in play this year, with a .327 BABIP that's about 50 points higher than the career .274 mark he carried into the season. There's no major uptick in quality of contact that's driven that change, either; Diaz averaged 88.4 mph off the bat in 2022 with a 39.3% hard-hit rate and is at 88.3 mph and 40.1% in those respective areas this year. It's possible his bat will take a step back in the season's second half, although even if it does, it shouldn't wilt to last year's surprisingly anemic levels.
Defensively, Diaz is a bit of a mixed bag. Framing metrics have universally panned Diaz's work over the past two seasons, but he was above-average as recently as 2021. In terms of pitch blocking and throwing, Diaz is one of the game's best. Dating back to 2021, he ranks eighth among all big league catchers in Statcast's new Blocks Above Average metric, trailing only a handful of elite defenders (Austin Hedges, Sean Murphy, Jose Trevino, Jacob Stallings, J.T. Realmuto, Yan Gomes, Adley Rutschman).
It's a similar story with Diaz's throwing; he regularly boasts better-than-average pop times, and as recently as 2021 he paced the NL with a gaudy 42% caught-stealing rate. He's at 29% this year, which is far better than it would've sounded in previous years, as the new rule changes in 2023 have contributed to a league-wide drop in caught-stealing numbers. The league average typically sat around 25% in seasons past, but it's down to 20% this year. Statcast pegs Diaz as third-best in MLB with its Caught-Stealing Above Average metric (which strives to gauge throws on a case-by-case basis rather than treating all stolen base scenarios as equal).
There's also Diaz's contract to consider. He signed a three-year, $14.5MM extension with the Rockies a couple years ago, buying out his final arbitration season and first two free-agent years. He's in the second year of that contract right now, earning a reasonable $5.5MM salary with a $6MM salary owed to him in 2024. It's an affordable enough contract that any club could stomach it.
Relative to open-market prices, Diaz's annual salary lines up with the type of money that steady mid-30s veterans or younger bounceback options might typically find. For context, Omar Narvaez signed a two-year, $15MM contract with an opt-out/player option this offseason despite having a down year in 2022. Mike Zunino signed a one-year, $6MM deal while seeking a rebound in Cleveland. The previously mentioned Hedges commanded a $5MM guarantee due solely to his defense. Diaz may not be an unmitigated bargain, but he's at the very least a fairly priced backup — arguably one with some surplus value on his deal.
In general, it's been a poor year for catchers throughout the league. Only 11 teams have received a wRC+ mark better than Diaz's 91 from their catchers in 2023. Contenders and playoff hopefuls like the Rays, Astros, Reds, Marlins, Padres and Guardians have all received awful offensive production behind the plate. Speculatively speaking, Diaz could make sense for any of the bunch. That doesn't mean they'll all have interest, of course, but there ought to be a market for the veteran.
The Rockies, meanwhile, once again find themselves without a viable path to the postseason. Schmidt has voiced an understandable desire to add pitching to his system, and it stands to reason that there are clubs who might be willing to part with some arms in order to pry loose a catcher who could help not just for the current postseason push but also solidify the position next year. Colorado's top catching prospect, Drew Romo, isn't having a particularly strong season in Double-A this year but could conceivably be up in 2024 nonetheless. In the meantime, there's little harm for a last-place club to let a journeyman like current backup Austin Wynns soak up the majority of starts in the season's final couple months. He's a sound defender who posted decent offensive production as recently as 2022. As far as 2024 is concerned, the Rox could always sign a veteran to a one-year deal this winter if need be.
Schmidt has pushed back against the notion of tearing everything down and trotting a Triple-A team out, citing the game's integrity. That's a commendable tack, and it provides some context for the type of offers he'd need to part with Diaz and other veterans. Diaz won't simply be given away for the best offer, nor should he. It also bears pointing out that midseason trades of catchers can be difficult to pull off; acquiring a backstop in the midst of a playoff push and asking him to learn a new pitching staff on the fly is no easy task.
If no serious offers present themselves for Diaz, so be it. The Rockies can always listen in the offseason or hope for better results on a team scale in 2024. However, the Rox also have a history of hanging onto players who appear to be obvious trade candidates, either extending them (e.g Daniel Bard, C.J. Cron, arguably Diaz himself) or simply letting them walk in free agency (e.g Jon Gray, Trevor Story). Schmidt contended to Saunders that he simply didn't receive "legitimate" offers for players like Gray and Story, and that's certainly possible. Story, in particular, at least netted the Rox a draft pick after rejecting a qualifying offer.
Diaz won't be a QO candidate post-'24, however, and his trade value is very arguably at its apex. He's a first-time All-Star with strong throwing/blocking skills, enough offense for his position and an affordable contract. This summer is the best time to extract a quality return for him. Colorado shouldn't simply trade him for a handful of magic beans, but setting too high an asking price and holding onto him runs the risk of again losing a quality player for little to no return at a time when the organization as a whole is hungry for quality minor league talent.