The A's are promoting top catching/first base prospect Tyler Soderstrom before Friday's game against the Twins, MLBTR has confirmed. The call-up was first reported by Christopher Correa of the Turlock Journal.
Oakland selected Soderstrom with the 26th overall pick out of a California high school in 2020. The left-handed hitter was regarded as a bat-first catcher on draft day. He's lived up to that profile in the minors, hitting .272/.333/.525 in 260 professional games.
Soderstrom has been a top young talent for the past couple seasons. He participated in the Futures Game in 2021 (which he did again last weekend) and ranked among Baseball America's top 25 prospects the following year. Soderstrom traversed three minor league levels last season, hitting .267/.324/.501 while spending the majority of his time in High-A.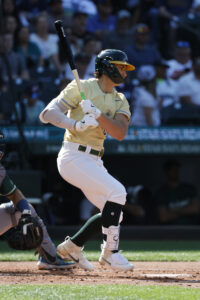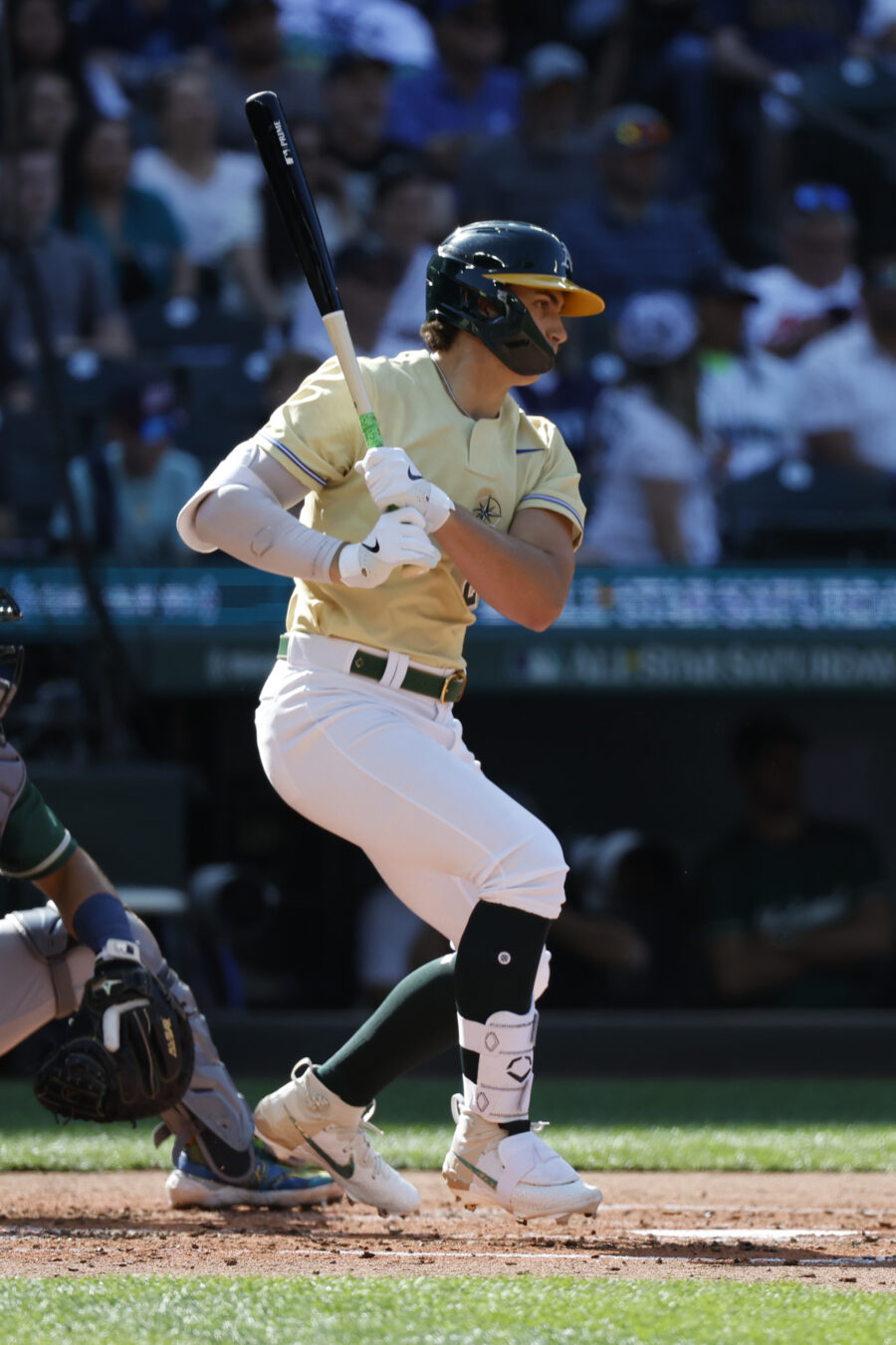 He's spent the entire 2023 campaign with Triple-A Las Vegas. Soderstrom has popped 20 home runs and slugged .536 in 69 games in that extremely hitter-friendly environment. He's posted middling strikeout and walk numbers, drawing free passes just 6.6% of the time against an elevated 27.6% strikeout percentage. His .303 on-base percentage is last among the 68 hitters with 200+ plate appearances in the Pacific Coast League.
Of course, the 21-year-old was generally facing pitching much older than him at the top minor league level. Heading into the season, Soderstrom was on the Top 100 lists at all of BA, The Athletic, ESPN and MLB Pipeline. Scouting reports are effusive in their praise for his offensive ability. Soderstrom is credited with one of the best hit/power combinations of any player in the minor leagues.
The biggest question, as has been the case since draft day, is his eventual position. Prospect evaluators suggest he's a well below-average receiving catcher who's likely to move off the position. That's before considering the presence of Shea Langeliers, whom the A's have used behind the dish as their potential long-term replacement for Sean Murphy.
Soderstrom has split his time between catcher and first base with Las Vegas this season. He's gotten 35 starts behind the plate, 24 nods at first base and nine outings as a designated hitter. Catcher and first are the only positions he's played in pro ball, though both Baseball America and ESPN's Kiley McDaniel suggested he could be athletic enough to handle third base or the corner outfield if he doesn't catch regularly.
A's skipper Mark Kotsay will presumably find ways to get Soderstrom in the lineup on an everyday basis. He could take some starts from Langeliers while working in at first base or DH. Rule 5 draftee Ryan Noda is having a strong rookie campaign and will presumably play whichever of first base or DH that Soderstrom isn't manning. Brent Rooker and Seth Brown seem likely to take most of their reps in the corner outfield.
There haven't been many causes for celebration for A's fans this season. Friday's game will offer the fanbase and organization a glimpse of what they hope is a more exciting future. Soderstrom joins 2021 second-round selection Zack Gelof in getting his first MLB nod. Gelof isn't quite the caliber of prospect Soderstrom is, but they're both generally regarded among the top handful of young talents in the organizational pipeline.
Because he appeared on the preseason Top 100 lists at Baseball America, ESPN and MLB Pipeline, Soderstrom would be eligible for a full year of service time if he can squeeze out a top-two finish in AL Rookie of the Year balloting. That's a tall task with less than half a season's worth of playing time, however. It's likely he'll end up shy of a full service year; in that case, he wouldn't be eligible for arbitration until after the 2026 season and is controllable through 2029. Future assignments to the minor leagues could push that back further.
The A's have one opening on the 40-man roster after waiving right-hander Adam Oller this week. They'll need to create another vacancy to select the contracts of both Gelof and Soderstrom.
Image courtesy of USA Today Sports.