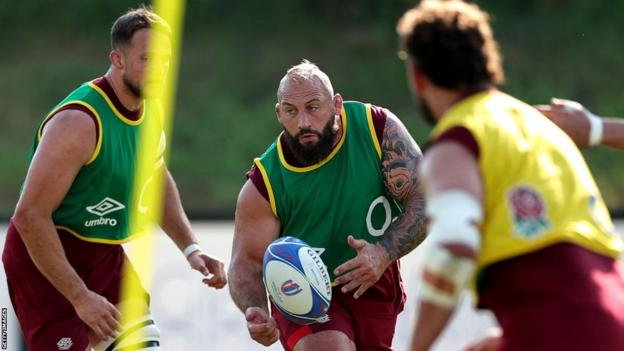 Joe Marler says he was initially reluctant to join England's training camp and needed to look Steve Borthwick "in the eye" over his Rugby World Cup prospects.
Prop Marler, 33, has been recalled 18 months after his last Test appearance.
He says an honest talk with head coach Borthwick convinced him to give it another crack.
"I remember speaking to Steve when he first took over, and he needed to clear up where I was at," Marler said.
"I said I've been available the entire time, but I also understand I haven't been playing well enough to warrant being picked."
Marler added to BBC Sport: "Then it got to the World Cup alignment camps a few months ago and I was named in that along with everybody else.
"But the night before I said to my wife Daisy: 'I'm not going to go. I don't think I can do it, the body is not quite [right].'
"She said: 'Are you having a laugh? You've got an opportunity to get back in, which is what you've wanted. At least hear what he's got to say.'
"I got in the meeting and I said [to Borthwick] I've come here and I needed to look you in the eyes and see whether you had lied to me or not.
"I said I needed to know whether it was a genuine opportunity to get in [his] World Cup squad or whether [he] just wanted [me to be] a bag holder.'
"Because if that is the case I would have [had] to give up and sacrifice quite a lot without any real pot of gold at the end of it, and there are other people who I think would prefer the experience.
"But I said if there's a real opportunity to get in the World Cup squad, then that will be my purpose. I'm all yours, and I'll give it everything I've got.
"He said to me: 'Joe, there is a real opportunity that if you work hard, then you can make it into the squad.'
"He did caveat it by saying: 'But you will have to run, and run, and run some more.'"
Marler first retired from international rugby in 2018, but came out of retirement a year later for the World Cup in Japan, playing a key part in England's run to the final.
Despite winning 79 caps since his debut in 2012, his international career appeared over after not being involved in last summer's tour of Australia, while he also didn't feature in the 2022 autumn campaign or the recent Six Nations.
And while he says he has been given no guarantees by Borthwick, he has hailed the England boss's honesty over his chances of making the final squad when it is named on 7 August.
"There are no guarantees but he said there is a real opportunity if [I] work hard," Marler added.
"He has been clear with everyone in the squad. He knows what it's like as a player in that situation where coaches in the past have messed him about. You just need to know the truth: Where am I at, and what do I have to work on?
"Then you have got something to aim for. And [Steve has] been brilliant like that."