On No. 1 Court at Wimbledon, second-seeded Aryna Sabalenka defeated American Madison Keys 6-2, 6-4.
Sabalenka simply overpowered Keys. She also played with calmness and control. Her serve was crushing and very reliable, often getting her out of trouble. She struck two aces and won 75% of her first serve points. She returned well, winning four of nine break points. She hit 17 winners and only 14 unforced errors.
In her post-match press conference, Sabalenka said: "Yeah, it feels amazing. I'm super happy to be back in the semifinals. Really looking forward for my semifinals match.
"Yeah, I want to do a little bit better than I did last time here," she said, smiling.
The crowd seemed to favor Keys, but Sabalenka said she was not bothered by that. "I kind of expected them to support her more than me. Anyway, it was amazing atmosphere. I mean, even if they support her, I mean, I was really enjoying playing in front of them.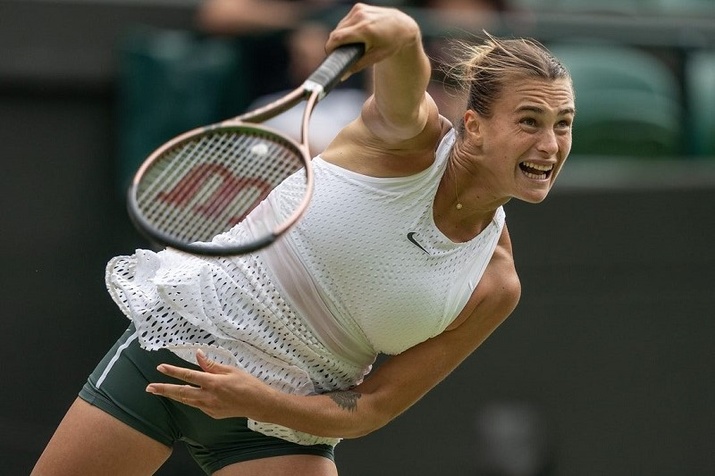 "Yeah, she played unbelievable tennis, like, the whole match. In those, like, few games, she played unbelievable. When she was serving for 5-2, 40-love up, I was just, like, kind of telling myself that it's okay, we going to play third set, that's fine. Just try to put a little more pressure on her in this set so she didn't feel that much, like, confidence going into the third set.
"I was just, like, trying my best. Lucky me, I won that game somehow, yeah, and turn around that second set."
Next up for Sabalenka is Ons Jabeur. Sabalenka said that she had practiced with her before Wimbledon. She said: "I felt like she's going to do well here because she played unbelievable tennis on practice court. I know it's different on practice than on match. She was able to bring this level on matches.
"It's not like I didn't expect that. Yeah, she's a great player. We always had tough battles against each other, very close matches. I really looking forward for this great battle."
If Sabalenka reaches the final, she will overtake Iga Swiatek as world No. 1.
Asked what is more important, playing her first Wimbledon final or becoming world No. 1, Sabalenka said, smiling: "To be honest, I want both.
"But I'm trying to focus on myself because I know if I'll start thinking about all this stuff, I'm going to lose my focus on court, my game. So, I'm trying to focus on myself right now and make sure that every time I'm on the court I bring my best tennis.
"Then later on we'll see if I'm ready to become world No. 1 or if I'm ready to play another final."
Sabalenka said she had dreamed of Wimbledon since she was a little girl. "I remember myself," she said, "I don't know, 14 or 15 years old going on my practice with the headphones listening to music and, like, dreaming becoming one of the best players in the world, dreaming about lifting this beautiful trophies.
"I mean, that's something unbelievable. That's something what really motivates me a lot, that I was able to become one of the best. I'm competing on the high level. So that's something big for me.
"I mean, I'm going to do everything I can to lift this beautiful trophy."
In her post-match press conference, Keys said: "Obviously a very tough day. I mean, I think Aryna played really well. I had chances in the second set and didn't capitalize on them. Sometimes that's how things go.
"Overall, still a really good tournament for me."
Keys said she's looking forward to the hard-court swing. "I've had a lot of success there. It's some of my favorite tournaments. I really enjoy playing that part of the season. Really looking forward to it.
"I mean, I think if I can just kind of keep up the hard work and continue to do what I did to build coming into this grass court season, I think that there's plenty of opportunity."