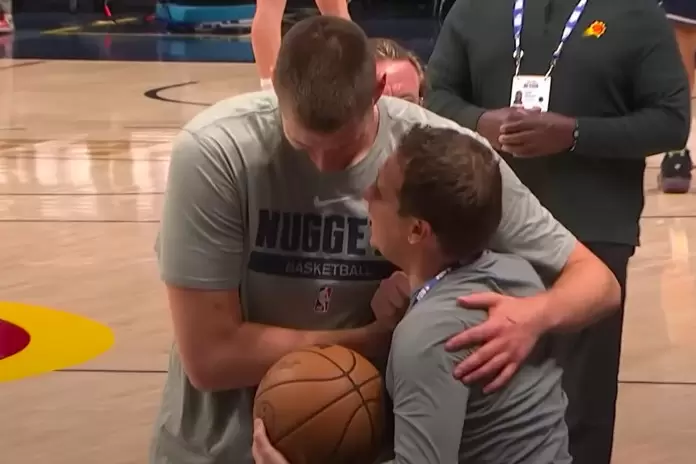 Suns owner Mat Ishbia has spoken out about the incident involving him and Nuggets star Nikola Jokic during Game 4 of the second-round of the playoffs.
The moment went viral when Jokic, seizing an opportunity to start a fast break, grabbed the ball from Ishbia's hands, resulting in contact between the two.
Speaking publicly about the event for the first time, Ishbia clarified that he was not trying to flop but rather moved back and raised his arms to ensure he did not touch Jokic. Reflecting on the incident, Ishbia emphasized that it happened in a matter of seconds and was not intentional.
"I wasn't flopping, I put my hands up and moved back because I wanted to make sure I wasn't touching [Jokic]," Ishbia said, via Brian Windhorst of ESPN. "It happened in three seconds. I was trying to help Josh Okogie, who fell over us. [Jokic] barely touched me."
Interestingly, Ishbia shared a lighthearted exchange with Suns players Devin Booker and Kevin Durant following the incident. They joked with him, saying, "You got us a point, when has an owner gotten his team a point?"
In a display of sportsmanship, Jokic approached Ishbia before Game 5 in Denver, handing him the ball and shaking his hand. Jokic expressed that he holds no ill feelings toward Ishbia, stating that he would have done the same thing to anyone in that situation.
The incident and subsequent interaction between Ishbia and Jokic showcased a mutual respect and understanding between the two, exemplifying the sportsmanship that is a cornerstone of the game.