Marketa Vondrousova of the Czech Republic is the first unseeded finalist at Wimbledon in the Open Era and the first since Billie Jean King in 1963. She defeated wildcard Elina Svitolina of Ukraine on Centre Court, 6-3, 6-3.
Svitolina, who became a new mother in October, had a remarkable run at Wimbledon and was one of the most inspiring stories of the tournament.
Since Russia invaded Ukraine in 2022, Svitolina has raised money for relief efforts and said that she plays every match for her country.
"I think war made me stronger and also made me, like, mentally stronger," she said. "Mentally I don't take difficult situations as like a disaster, you know? There are worse things in life. I'm just more calmer.
"I think also, because I'm just started to play again, I have different pressures. Of course, I want to win. I have this motivation, like huge motivation, to come back to the top.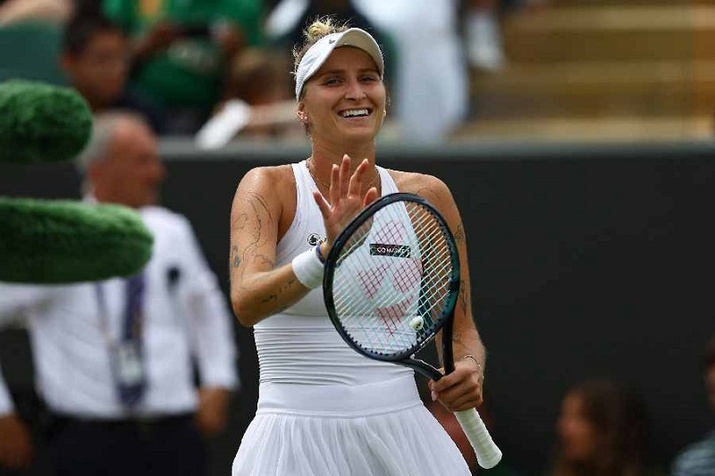 Reuters.
"But I think having a child, and war, made me a different person. I look at the things a bit differently.
"I know that lots of people back in Ukraine watching. I'm happy I can bring little happiness to their life. There was many videos also on Internet where the kids are watching on their phones. This really makes my heart melt seeing this. Just happy I could bring little happiness to people of Ukraine."
In the match against Vondrousova, Svitolina was not able to maintain the same level that brought her to the semifinals.
Vondrousova is a crafty lefty with creative variety: power, heavy topspin, especially on the forehand, slice. She has a fantastic serve, deft dropshot, sublime lob.
In the second set, Svitolina fought back when the Czech was up 4– love to make it 4-3. But, in the end, Vondrousova was too good.
In her post-match press conference, Svitolina said: "It was just, yeah, I should have find a better way to deal with Marketa's game style. She's very tricky opponent. She gets lots of balls back.
"Yeah, I'm just not very happy the way that I dealt with the situations, with some points at the beginning, as well. She played really well, yeah, dealt with my game better today."
When asked if she felt the strength and the weight of Ukraine behind her, she said: "For sure. For sure. Massive support. I got a lot of messages from different people. It's unbelievable that they been there with me all the way.
"Hopefully they continue," she said, her eyes filling with tears.
In her post-match press conference, Vondrousova said: "It was a very tough match. She was coming back. She was playing some good tennis. Yeah, I'm just very happy that I stayed focused and I stayed in my head.
"I'm happy with the way I finished it."
Vondrousova was asked why it was beneficial to be a lefty. "Yeah," she explained, "I mean, everybody says that, especially on grass. I think the opponent, they also know that you're going to maybe play the slice to the backhand. They are looking for it.
"Yeah, I mean, if you can make the serve, then I think it's very helpful. Also, I think in some rallies it's kind of different because they're used to maybe playing to backhand and we have a forehand there. Maybe that.
"I mean, for me, it's easier to play right-handed players than left. I think, yeah, for us, if you can do a good slice from the left side, it's very helpful."
In the final on Saturday, Vondrousova will play sixth seed Ons Jabeur. Jabeur defeated second seed Aryna Sabalenlka in the other semifinal.