The USA has released it's roster for the upcoming 2023 NORCA Women's Handball Championship that starts this Monday, in Nuuk, Greenland. The USA will face off against Greenland, Cuba, Canada and Mexico and the winner of the tournament will qualify for the 2023 IHF Women's World Champions this December in Denmark, Norway and Sweden.
Here's the roster from youngest to oldest
Unlike the U.S. men, the U.S. women's roster is more evenly split between Americans who first played the sport stateside (11) vs another country (7). And, remarkably (for this old timer, anyway) 3 of those athletes are Juniors that first played the game in Mexico. This would have been inconceivable not too long ago and it speaks well of the development of the sport in that country.
The other interesting dynamic is that while the roster has a typical average age of 27, only a few athletes are near that age. Instead, it's very top heavy at the two ends of the spectrum: younger, but inexperienced and experienced, but older.
Here's a schematic of how the the team might setup on offense. I say "might" because there's some new athletes, some athletes that haven't played in a while and a fair amount of guesswork involved.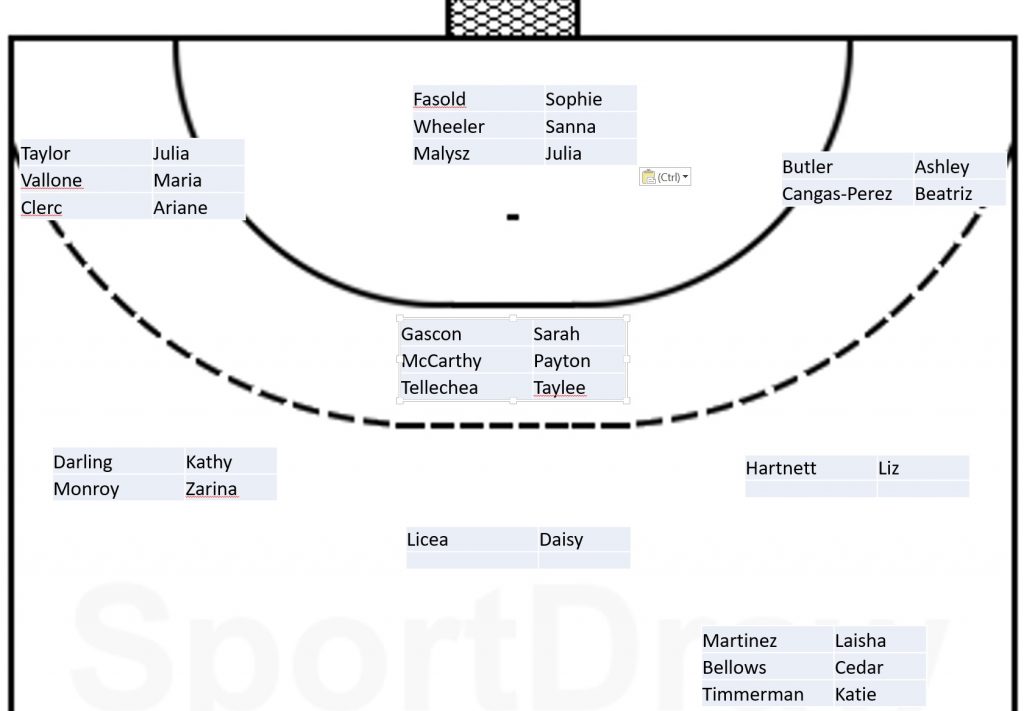 Goalkeeper: Sophie Fasold plays for Vfl Oldenburg in Germany's top division and is the clear #1 GK. Wheeler and Malysz will likely alternate as her backup.
Left wing: Julia Taylor and Maria Vallone are both experienced veterans and will probably share time. Vallone had an ACL injury and this will be her first official competition since the 2019 PANAM Games. Meanwhile, Taylor has often been pressed into the backcourt for the U.S. where she has been a bit out of position so she may be looking forward to a tournament where she primarily plays at the wing. It will also be interesting to see how newcomer, Ariane Clerc performs after a season playing for Reims-Champagne in France.
Left Back: Long time veteran Kathy Darling can still be an imposing force in the backcourt, but at 41 years of age 4 games of round robin play in 5 days may be a real test of stamina. Zarinna Monroy represented the U.S. at the 2022 Jr World Championships and will also likely see time at left back.
Center Back: A lot of guesswork here, but I suspect Daisy Licea may be the best option for the U.S. at center back. Last year playing for the Jr Women's team she was at times the key player thanks to a combination of quickness and aggressive play to get the ball moving and the defense out of their comfort zone
Right Back: More guesswork… Liz Hartnett will play here and I won't be surprised if Ashley Butler also sees significant minutes. Butler, however, is a big question mark as she hasn't played for the U.S. since the 2019 PANAM Games.
The Unknown Backcourts: I know next to nothing about these three athletes: Laisha Martinez, Cedar Bellows and Katie Timmerman. Martinez plays in Mexico, Bellows has represented the U.S. in Beach Handball and Timmerman recently completed her collegiate basketball career at D2 Concordia University, Irvine.
Right Wing: Butler and Cangas-Perez should share time here. Cangas-Perez, is originally from Cuba and has played for the Inter Miami club team and Rogue in USA club competitions.
Circle Runner: Sarah Gascon is the veteran here and the other options are relative newcomers, Payton McCarthy and Taylee Tellechea. McCarthy plays for Ohio St and having played pivot for a short time I was impressed with her play at college nationals. Tellechea has previously represented the U.S. in beach handball, but is pretty new to indoor handball.
Outlook
The U.S. Women's Sr National Team has not had much success of late as it hasn't won a match in official competition since the 2019 PANAM Games. Part of the blame can be laid on COVID and limited opportunities to play, but fundamentally the U.S. has a very small pool of athletes to draw upon. And, by small we're talking less than 150 U.S. Passport holding handball playing athletes world-wide.
Based on recent results (a two match series versus Canada last November) and a winless 2021 NORCA Championship the U.S. seems likely to go winless again and place 5th in this 5 team competition. That said, matches are decided on the court. Not on paper, based on past results. The U.S. has also had several training camps, have added some new players and the gap in talent to sides like Canada and Mexico is not overwhelming. If the U.S. can get some productive scoring from its backcourt players and play tough on defense wins against those teams are possible and would be a good sign of progress.
In terms of the overall tournament I suspect it will come down to the hosts, Greenland, and Cuba facing off in the Gold medal match with a World Championship berth on the line. Based on the 2018 Men's PATHF Bronze Medal Match also held in Nuuk, also with a World Championship berth on the line that should be something to see with a full house of fans cheering on the home team.
The tournament starts today (Monday) with Cuba taking on Mexico and Greenland playing Canada. The U.S. starts their campaign on Tuesday with a match vs Canada at 3:30 PM US ET.