"A turning point in the history of motorsport" – that's how F1 Academy Discover Your Drive, a new global initiative aiming to increase the female talent pool in motorsport both on and off the track, is being described. Quite simply, it has the potential to be a seismic game changer and to inspire the next generation of female talent.
Launched at the start of June, the initiative will offer girls and young women the opportunity to take part in entry-level programmes and professional schemes to promote and enhance female participation in the sport.
Motorsport UK – the governing body for four-wheeled motorsport in the UK – and TeamSport UK – which operates 35 karting venues across the country – are the operators of the programme, with the first talent identification programme to launch being F1 Academy Discover Your Drive Karting UK.
READ MORE: 'If you can't see it, you can't believe it' – Susie Wolff on new global initiative F1 Academy Discover Your Drive
This is a national programme that will look to find and nurture the next generation of young female go-karters, starting in the UK across six venues in 2023. It will then expand to 35 venues across the country next year.
All of this is designed to tackle a key problem in diversifying and bringing talented women through the motorsport ranks: the numbers aren't where they need to be for that to happen.
"If someone was to ask me what keeps you up at night, [it's that] we will run out of [female] drivers," says Susie Wolff, the Managing Director of F1 Academy. "We will run out of these women trying to enter our sport, be it on track or off track."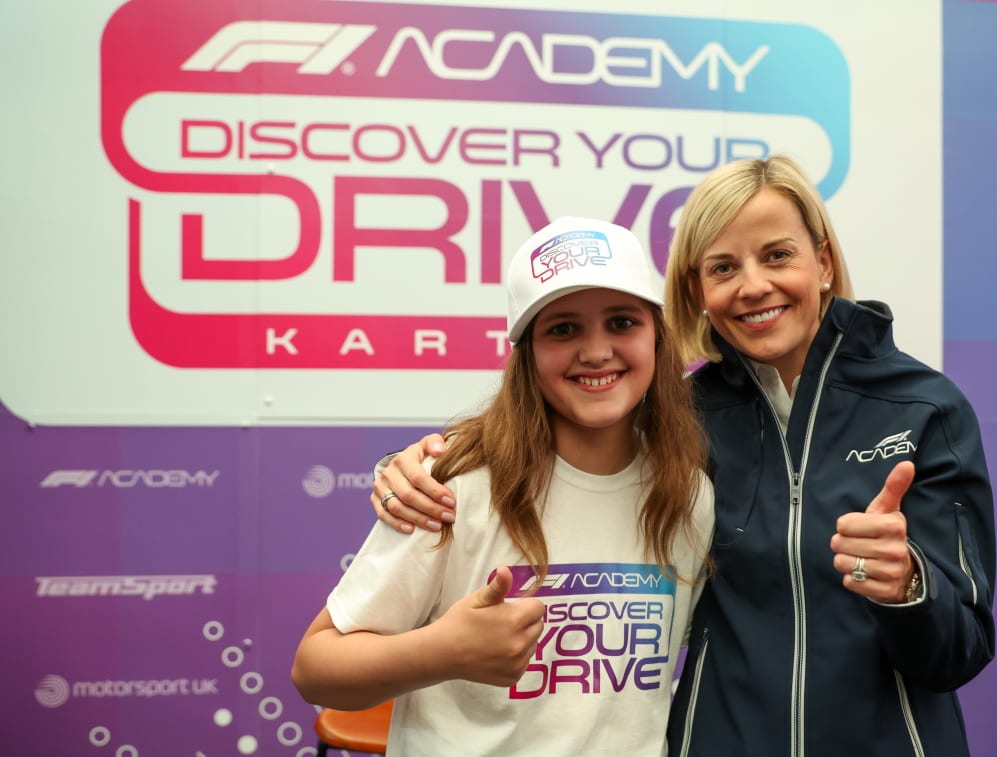 'When I started karting I was the only girl'
Wolff is speaking at a July engagement day, giving the media and key stakeholders a snapshot of what F1 Academy Discover Your Drive is all about. She may have lost her voice for the event – soldiering on nonetheless – but her message is loud and clear: everything happening here is about inspiring the next generation.
Among those who have gathered for this event, at TeamSport UK's karting venue in the Docklands, are a number of young female karters who are in for an exciting evening. Not only are the likes of Wolff in attendance, but also a number of the drivers who are helping to light up the inaugural F1 Academy season currently ongoing. They are also on hand to give their expert advice and guidance to this cohort of youngsters before they go out on track.
That plays into one of the most important factors of all – role models are worth their weight in gold. We all have them, but if you were a woman dreaming of entering the motorsport world in years gone by, they were few and far between.
"I think it's really good seeing more girls coming into karting," says Rodin Carlin racer Jess Edgar. "When I started karting I was the only girl in my classes all the way through to juniors, when Ella Stevens raced with me as well. It's really nice to see that there's a lot more girls coming into karting and it's good that F1 Academy are pushing for more girls."
Another F1 Academy racer, PREMA Racing's Chloe Chong, concurs, and knows exactly what it's like to grow up in those young racers' shoes. Her own experience also perfectly sums up the importance in having Formula 1 on board with this entire initiative.
"Definitely watching F1," Chong responds, when asked how she got into motorsport in the first place. "I think it's the same for a lot of the little girls here today.
"I was talking to them and they all said they got into motorsport because of F1. It's the same with me, I just loved watching on TV and then I went in a go-kart straight after my sixth birthday because I just kept begging my dad.
"From then on, I loved it. It got a bit addictive with the adrenaline, wanting to be faster every time."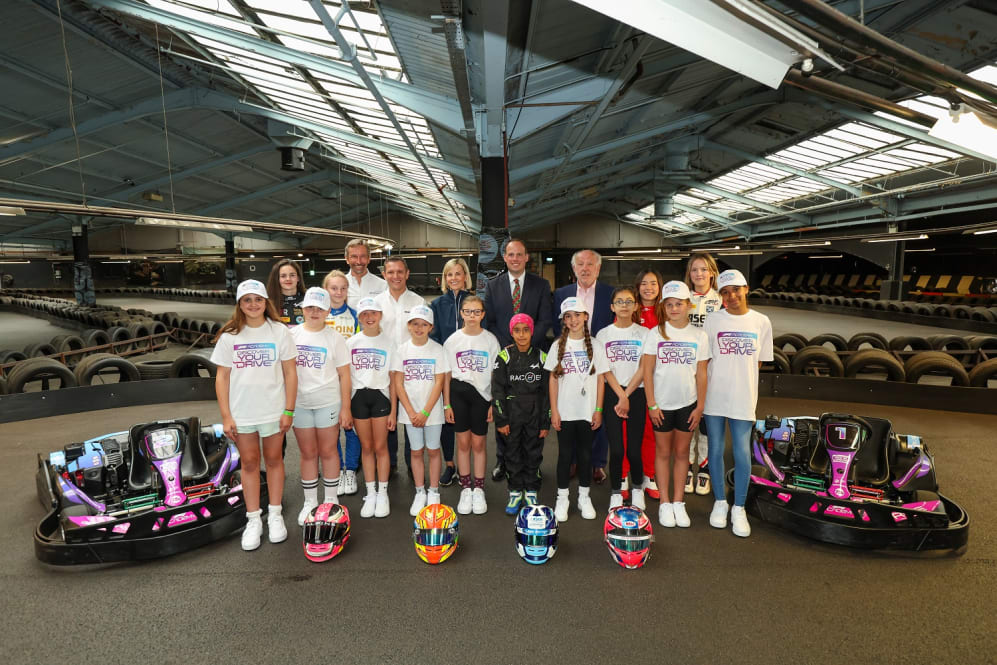 'It's awesome to have your childhood hero leading your series'
Speaking of role models, you can't look too far beyond Wolff and her influence within what F1 Academy is trying to accomplish. This is her passion and, voice or no voice, nothing will stop her championing the cause.
That influence is already clear when you talk to Edgar and Chong – they can see someone they looked at as an inspiration growing up and it continues to have an impact.
"It's awesome to have your childhood hero leading your series," says Chong. "I didn't really imagine it when I joined F1 Academy, and then it was announced, so it's really great to have her leading and we know it's in safe hands.
"She's got the experience and she knows where us girls are at in terms of our motorsport careers. I really believe in her, and she can help make us successful."
That sentiment is echoed by Edgar, who has been watching Wolff since she was a child as well.
"She raced with my dad when my dad raced, so I used to watch her when she was on track," she explains. "It's nice to see that she's helping us to push us in our career.
"It's really important to have someone that's been through what we've been through – started in karting, coming through the ranks and moving into single-seaters. She did the same thing and she's been on the same route that we have.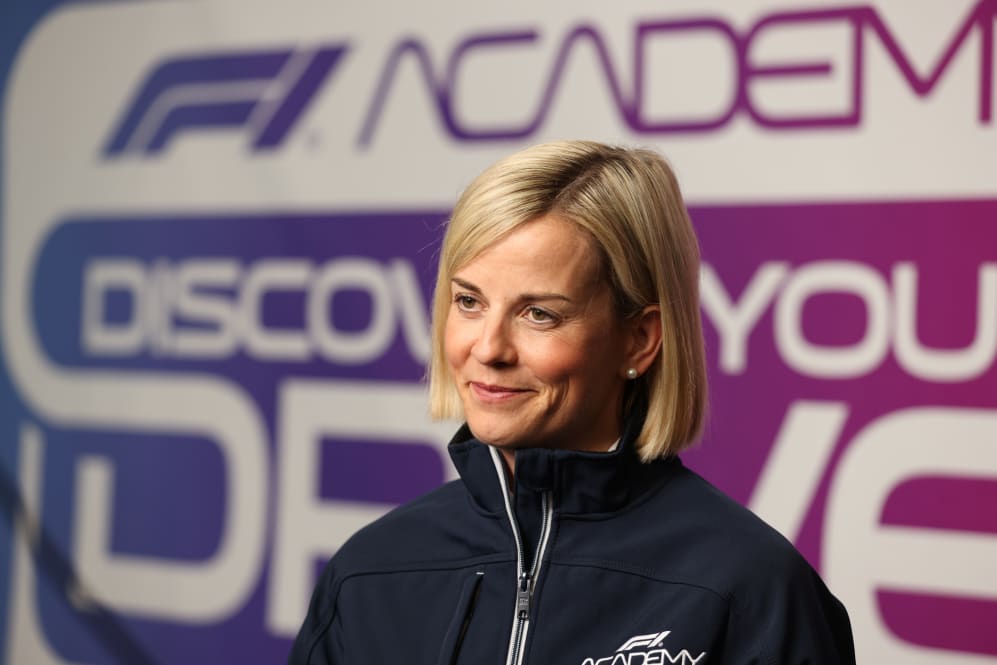 'It's not something that happens overnight'
F1 Academy Discover Your Drive has big ambitions – there's no denying that – but it's going to require patience. Widespread change isn't going to happen immediately – but for that to happen, action needs to start now.
Quite simply, the numbers are not where they need to be for the female talent pool – both on and off the track – and the battle to alter that starts at the grassroots.
"To get a major demographic shift, it takes a long time," says Hugh Chambers, the CEO of Motorsport UK. "It's not something that happens overnight.
"If you think about the numbers, we only have five per cent of girls currently as licence holders. Even if we managed to improve that by 20 per cent, that only gets you to six per cent."
The challenge may be vast, but across society we are seeing change for the better, and sport has had a massive part to play. That hasn't been lost on anyone within F1 Academy as they seek to grasp the opportunity and the momentum to have the best possible outcome.
"Since I worked in Formula 1 with BAR Honda, there's been a seismic change," Chambers adds. "You'd see very, very few female engineers or female technicians working in Formula 1 then, whereas now there's a good number.
"There's not enough, but the direction of travel is extremely positive. But you've got to start at the grassroots. You've got to start at this age and there's an old phrase isn't there, which is 'see me, be me'.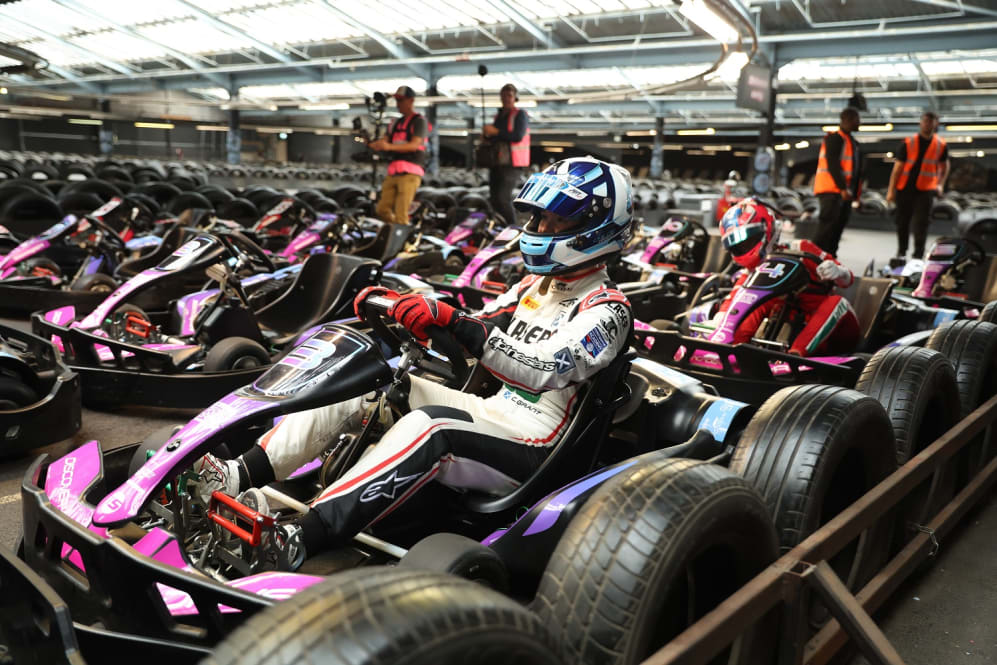 "You get to that tipping point, and we've seen that in women's football, in women's cricket and in women's rugby, that school-age girls are realising, 'I can play rugby and I can play football'. It's been spectacular, and it almost happens exponentially when you get to that tipping point – it suddenly accelerates.
"I think the World Cup this year in football is going to be a major turning point and accelerate furthermore."
What's also encouraging – along with the positive direction of travel – is the determination within motorsport to help drive that change.
"There's a huge willingness within this industry to be more diverse," Wolff says.
"They realise, for long-term success and how the sport is going in the last years, with a growing female fan demographic, how are we connecting with those fans? How are we making our sport more accessible?
"In the end, this initiative here with our operating partners – TeamSport UK and Motorsport UK – people realise that we have to collaborate and work together to make sure we can drive change. If there's one biggest surprise it would be how much willingness there is, bearing in mind I've been in this sport for a long time.
"I could feel the challenges then. It's a different place right now. People want to be engaged and they want to figure out what can we do about driving this change together."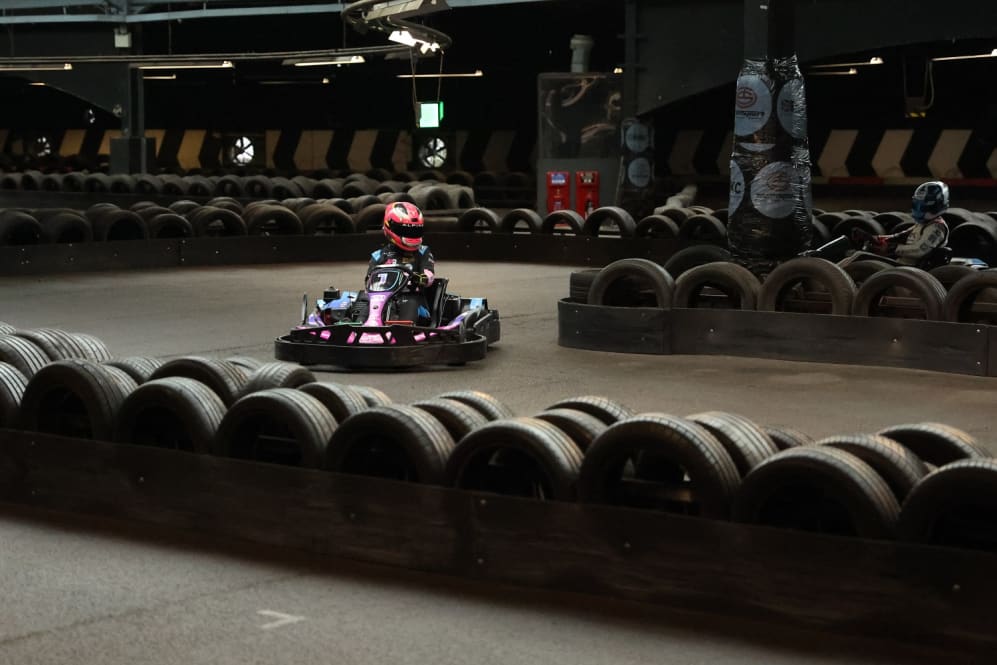 'To have the F1 name on the walls here is extraordinary'
Here we come back to the idea of F1 Academy Discover Your Drive being that turning point in the history of motorsport – it's Chambers' own phrase but one that sums up the magnitude of this initiative.
What's more, with Formula 1 backing it in the way that it is, that gives it a tremendous chance to thrive.
"To have the Formula 1 name on the walls here, associated with indoor karting, is just the most extraordinary thing," Chambers says.
"I think what you're going to see now is the F1 teams really engaging with it, and beginning to realise that if you don't start looking for the talent with these eight to 10-year-old girls, then you're too late.
"That's not to say the girls that were going around the track – the Abbi Pulling's of this world – don't have enormous talent, they do.
"But it's a numbers game. There aren't enough girls to break through and be visible enough to create a cohort of girls that, I think, are going to be at the very top of the sport.
"We need more and we've got to build the foundations."
For more information on F1 Discover Your Drive click here.