McLaren team boss Zak Brown could not hide his smile after a much-improved display throughout the British Grand Prix weekend landed the squad's first podium finish of the 2023 campaign.
A challenging pre-season with the MCL60 left the Woking operation – in the words of Brown – "nowhere" for the first two flyaway races, with only a handful of points possible at the six rounds thereafter.
TECH TUESDAY: Under the hood of McLaren's sensational Silverstone step change in pace
However, following a restructure that saw James Key leave as Technical Director and new team boss Andrea Stella implement his own strategy, all eyes turned to a major upgrade package McLaren had planned for Austria.
Initially rolled out with Lando Norris, the Briton impressed by qualifying fourth, taking third in the Sprint Shootout and ultimately finishing fourth in the Grand Prix at the Red Bull Ring, though questions remained over how much this was down to track characteristics.
But those were rebuffed at Silverstone, where both McLarens had the developments at their disposal, paving the way for Norris and Oscar Piastri to qualify a high-flying second and third, and finish second and fourth – the latter losing a spot under the late Safety Car.
Race Highlights: 2023 British Grand Prix
Speaking to Sky Sports about McLaren's progress after the race, Brown said: "Given how we started the year in Bahrain and Saudi, where we were nowhere, to be on the podium, to lead the race and be there on pure pace, having two cars there…
"It's unfortunate, I feel bad for Oscar, he deserved to be third, but what incredible work all the men and women at McLaren have done."
READ MORE: Piastri focuses on positives of McLaren's 'massive step forward' despite Safety Car dashing his podium hopes at Silverstone
Brown added that he feels championship leader Max Verstappen is "getting less further ahead" as the season develops and looks forward to more "fantastic racing" in the events to come.
"I think this shows just how healthy the sport is, how great the competition is, that we're now coming into each weekend and there's someone at the front you weren't expecting, someone at the back you weren't expecting," he commented.
As for whether McLaren are now "second-best" to Red Bull, Brown said: "No, I think it's a little early to be that bold. I think what we are now is we're back in the game.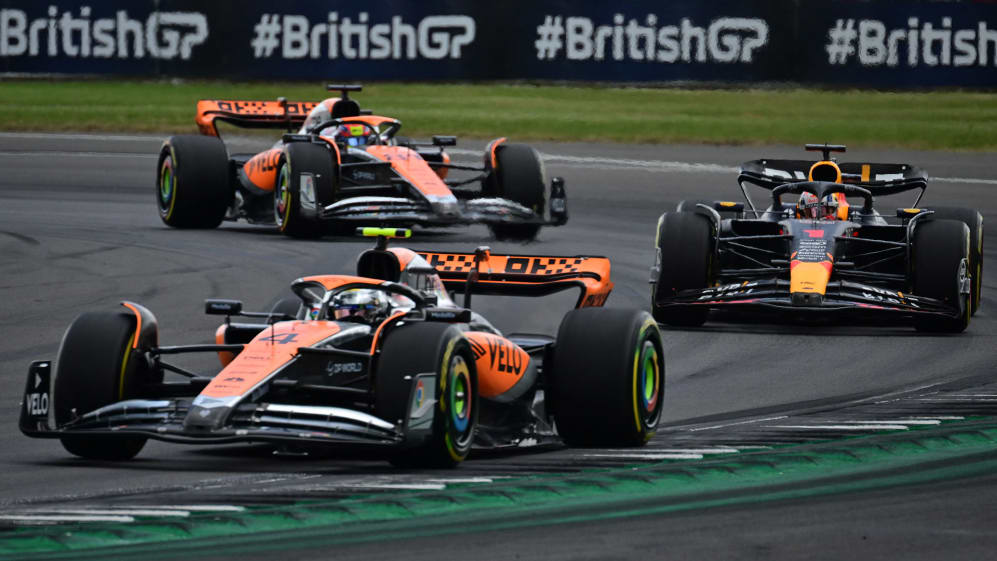 "I'm sure tracks will suit different cars in different ways, plus everyone's continuing to bring upgrades, so you can see when you put a lot of great, hard work in and it works, the leap forward you can take. As far as we know, someone else might do that the next race, so we've got to keep pushing."
Brown also reserved praise for Stella's efforts to transform McLaren's technical department before some big-name signings – such as Rob Marshall from Red Bull – arrive to bolster the department.
PALMER: Why Norris didn't fight Verstappen harder after taking the lead at Silverstone
"This guy is awesome," Brown said of Stella. "The way he inherited what we had at the start of the year, recognised the challenges that we had, put in a technical restructure, promoted people from within.
"We've made some big hires that are joining, but they haven't joined yet, so this is still the work of all the men and women under Andrea's leadership.
"They put their head down, [Technical Director, Aerodynamics] Peter Prodromou in the aero department, [Deputy Technical Director, Engineering & Design] Neil Houldey, Andrea, [Chief Operating Officer] Piers Thynne back at the factory – everyone's done an awesome job."