Gheorghe Hagi has confirmed he once played two professional games of football for two different clubs in one weekend as a young player, while also revealing he was once signed to four clubs at once. 
Coming through the academy at FC Constanta, the Romanian Football Federation selected him to join Luceafarul while he continued his development in youth football.
With both clubs playing at different times on one weekend, though, Hagi decided to stick his boots on turn out for each side simultaneously. 
"It's true," he confirmed to FourFourTwo. "Games with Luceafarul were usually on Sunday mornings at 11am. My team from Constanta were playing in Romania's top division on Saturdays at 5pm. I used to travel when I could so that I could play for both of them."
He doesn't stop there, though, revealing his indecisiveness as a young player. 
"There were actually four [clubs he signed for at once]. They wanted me and I didn't want to upset anyone; they all made good offers, so I signed for all four of them! 
"In the end, the clubs negotiated between themselves and I ended up at Sportul Studentesc. Dinamo Bucharest, Steaua Bucharest and Universitatea Craiova had also convinced me to sign, but I went to Sportul, the students' team in Bucharest. They waited for me at the airport following a national team game, so I decided to go and train and play for them."
Hagi then went onto play for Real Madrid and Barcelona in his career, as well as lead his nation to the knockout stages at both the 1994 and 1998 World Cups. Renowned for his close-control and dribbling, Hagi credits playing barefoot as a child for his incredible technique.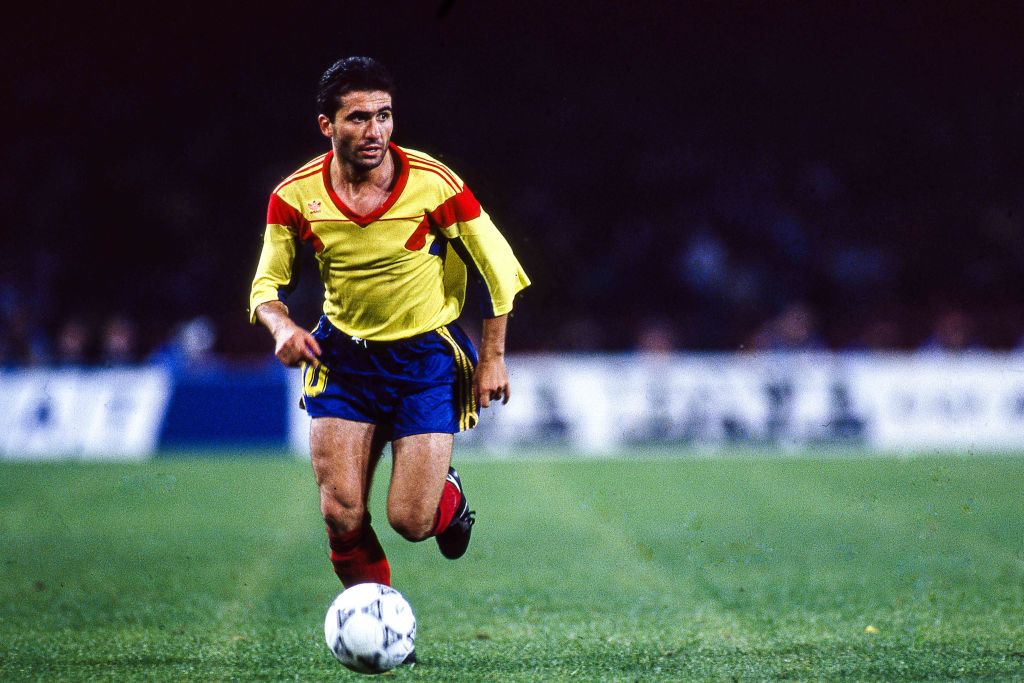 "I grew up like every kid: we played in the street a lot and spent more time outdoors than indoors," Hagi explains. 
"Football was a big part of my life ever since I can remember, and everything we did had an impact on who we became. Johan Cruyff was my idol. When I opened my eyes as a football fan, I fell in love with the Dutch team of the '70s. I loved Ajax, too. I loved everything Cruyff did.
"I was suspended [aged 14] because my dad wouldn't allow me to go to Bucharest and join the Luceafarul development programme. He thought I was too young. I was suspended, but I could still train at my home club. I never missed training during that year, because I loved football. Nothing could stop me. I got picked again by Luceafarul and my parents let me go that time. It was an amazing feeling."
More stories
Gheorghe Hagi says he was "brainwashed" as he describes the experience of playing for both Barcelona and Real Madrid. 
Hagi also explains why the entire Romanian squad bleached their hair during the 1998 World Cup. 
Meanwhile, Gareth Ainsworth addresses THAT Maori dance teamtalk that went viral at QPR