Mick Schumacher has insisted he wouldn't say no to another test with McLaren after getting behind the wheel of one of the team's F1 cars for the first time. The Mercedes reserve driver carried out a test at the Algarve International Circuit in Portugal earlier this week for them.
It was announced back in February that Schumacher – who raced for Haas in 2021 and 2022 before taking on his current Mercedes role – had been added to McLaren's pool of reserves for the 2023 season, via an agreement with the Silver Arrows.
READ MORE: Schumacher joins McLaren's reserve driver pool ahead of 2023 season
That means, should regular McLaren drivers Lando Norris or Oscar Piastri be unable to compete, the Woking operation could call upon Schumacher, the son of seven-time F1 world champion Michael.
As such, Schumacher was given the chance to test the team's 2021 Italian Grand Prix-winning MCL35M during a private session in Portimao, helping him prepare for any potential stand-in duties.
This tweet has been removed from Twitter
Ahead of the test, Schumacher spent time in Woking to undergo a seat fit and set out a run plan specifically tailored to him, while meeting team boss Andrea Stella, who worked with his father's Performance Engineer at Ferrari between 2002 and 2006.
"My first test with McLaren was great, we did so many laps out there," Schumacher said. "It has been really good to get that experience with the team. It is a great team and a great bunch of people.
DRIVER MARKET: Lawrence Barretto assesses the chances of a return to the grid for Schumacher in 2024
"We went through the whole schedule beforehand when I was at the factory. We were trying to focus on the things that I think are important for me, in terms of my development, and for the team to get to know me.
"We ran through some different projects, it was mainly about driving style and getting to understand the tyre. The tyre we used is an academy tyre, so it is a little different, but it is a great one to learn on and improve my skills, and that is what we were really focused on.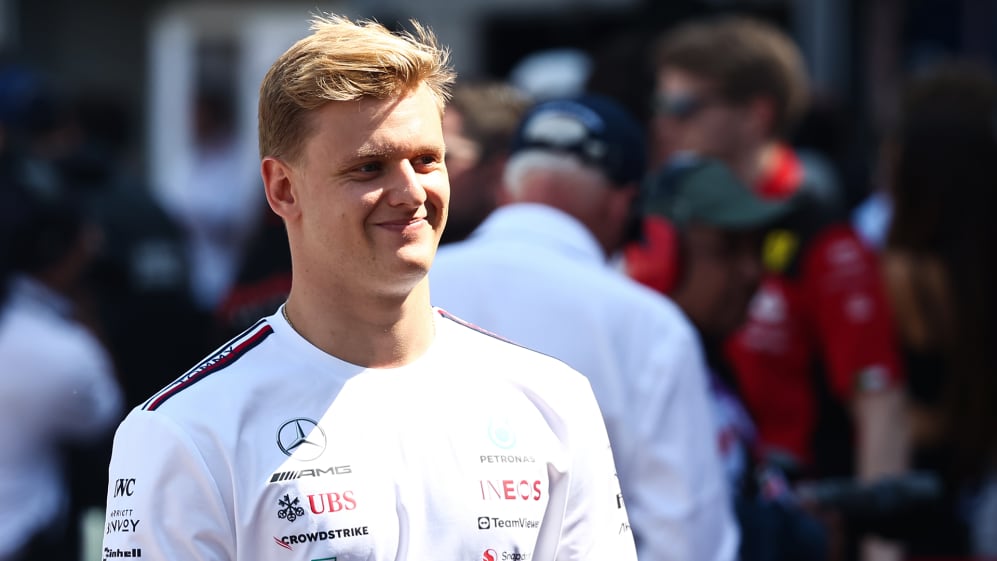 "It was good to get a feeling for driving a race-winning car, as this car won in Monza. It was great gaining the knowledge of how to drive this car and how to get around in it quickly."
Having made his F1 debut with Haas and spent two seasons onboard, Schumacher was replaced by fellow German Nico Hulkenberg for the 2023 campaign, with Mercedes subsequently handing him a reserve role that has included plenty of simulator time and some on-track running.
READ MORE: 'There will be many emotions' – Mick Schumacher preparing for 'special' drive in father Michael's Mercedes at Goodwood
"I did the Pirelli test with Mercedes in Barcelona, so it is not like I was coming into this test super, super fresh," he added. "It is good for me to get as much driving in as possible, and that is why this day is an amazing opportunity for me. I wouldn't say no to another test with McLaren."
Schumacher will sample another F1 car this weekend as he jumps into the cockpit of the Mercedes W02 driven by father Michael during the 2011 season at the UK's Goodwood Festival of Speed.