Thailand outplayed Bahrain in highly-anticipated final showdown to capture not only their unprecedented title at the 2023 AVC Challenge Cup for Men at the University of Taipei Hall in Chinese Taipei, but also the final berth in the 2023 FIVB Volleyball Challenger Cup in Qatar later this month.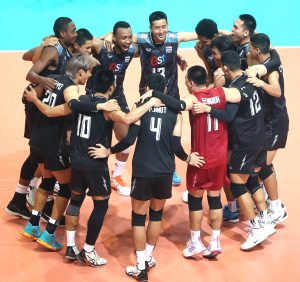 Thailand, current world No.60 and former consecutive four-time Southeast Asian (SEA) Games champions, pulled off stunning straight-set 25-20, 25-20, 25-16 win against Bahrain, world No.74 and bronze medallists at the last year's AVC Cup for Men in Nakhon Pathom, Thailand.
Following the exceptional win in the final clash, Thailand qualified for the 2023 FIVB Volleyball Challenger Cup in Doha from July 27 to 31, filling a complete lineup of 8 strong teams to join the fray in this five-day intense competition. They consist of Chile, Dominican Republic, Tunisia, Turkey, Ukraine, China, the lowest-ranked Challenger team of the current edition of the VNL, hosts Qatar and Thailand, the newly-crowned AVC Challenge Cup winners.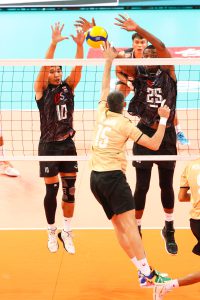 The aforementioned 8 teams will fight for the lone promotion ticket at stake to contest the 2024 edition of the FIVB Volleyball Nations League in place of the relegated China.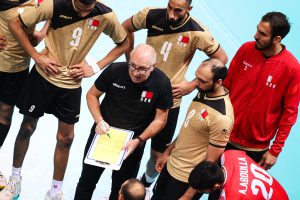 En rout to the Saturday's showdown, Thailand struggled to beat defending and successive three-time SEA Games gold medallists Indonesia in epic tie-breaker in the Ranking 1-6 before producing comeback 3-1 win against Vietnam in the semifinals, avenging the bitter straight-set loss to the Vietnamese in the bronze medal match at the 32nd SEA Games in Cambodia early this year.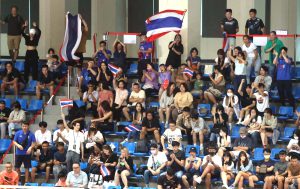 Bahrain also proved one of the strongest teams to be reckoned with in the topflight tournament as they stunned Australia, which had competed in three editions of VNL in 2018, 2019 and 2021, in four-setter in the Ranking 1-6 and then demolished Korea, which contested the 2018 VNL, in straight sets in the semifinals.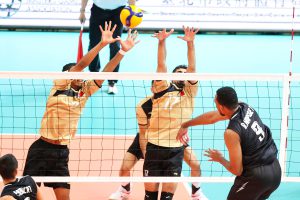 Against the Bahrainis, Thailand dominated the game and fared much better in almost every scoring skills – 40 spikes, 8 blocks and 8 aces. Only the opponent errors made a bit difference between them, with Thailand winning 19 points and Bahrain 21.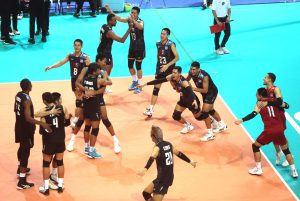 Napadet Bhinijdee chipped in with 18 points including 14 attacks from 21 attempts and 3 aces for Thailand, while Anut Promchan and Anurak Phanram added 16 and 10 points respectively. Mohamed Abdulla Yaqoob led the Bahrain's charge with 13 points on the team's loss.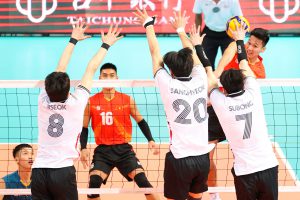 In the third place playoff clash earlier, formidable Korea, world No.32 and bronze medalists at the last year's FIVB Volleyball Challenger Cup on home soil, put it past spirited Vietnam in hard-fought four sets 25-22, 25-19, 22-25, 25-21 to pick up bronze medal, leaving the Vietnamese side to finish fourth place.
Jung Jiseok topscored with 15 points for Korea, while Tran Duy Tuyen led Vietnam with 19 points on the loss.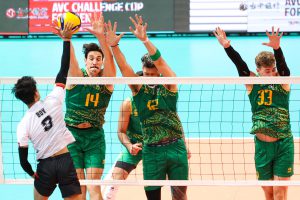 Australia claimed 5th place after overcoming Indonesia in dramatic four sets 25-20, 25-18, 19-25, 25-16 in the Ranking 1-6 (5th-6th playoff match) on Saturday.
William D'Arcy bagged 18 points from 15 attacks, 2 blocks and one ace serve for Australia, while Hendra Kurniawan and Farhan Halim handed Indonesia 11 points apiece on the team's losing effort.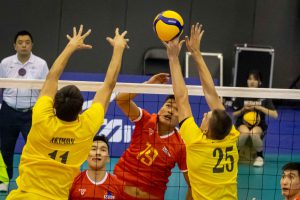 In the Ranking 7-12 (7th-8th playoff match), world No.68 Kazakhstan lived up to their expectation to take the 7th position in this tournament after 3-0 (25-16, 25-16, 25-20) rout of Mongolia on Saturday.
Ilya Tovolzhanskiy grabbed 14 points from 11 attacks, one block and 2 aces for Kazakhstan, while no Mongolian player scored double-digit marker, with Battur Batsuuri leading the team with 8 points.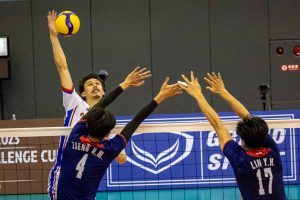 Chinese Taipei also celebrated their victory in their last match against Philippines, beating the Southeast Asian counterparts in thrilling four sets 25-22, 25-17, 26-28, 25-22 in the Ranking 7-12 (9th-10th playoff match) at Taipei Gym.
Left-hander Wu Tsung-Hsuan was on fire, scoring a match-high 22 points from 19 attacks, one block and two aces for Chinese Taipei, while Steven Charles Rotter bagged 21 points including 18 attacks from 33 attempts on the Philippines' losing effort.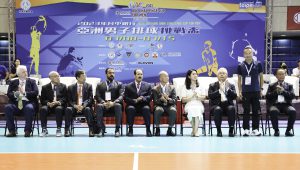 Meanwhile, Mr Kong Chien-Jung, President of Chinese Taipei Volleyball Association, and Control Committee President and Technical Delegate Mr Shanrit Wongprasert, himself AVC Executive Director, jointly presided over the awards presentation and closing ceremony.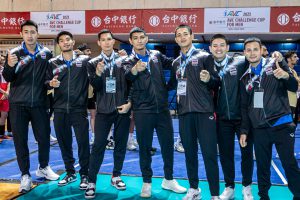 Thailand took home the Champions' Trophy and gold medals. Second place Bahrain also received trophy with silver medals, while trophy and bronze medals went to Korea, which finished third place in this tournament.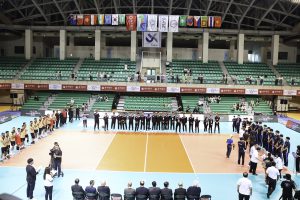 POOL RANKING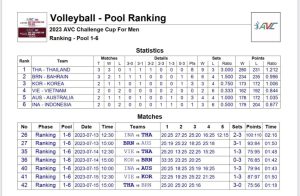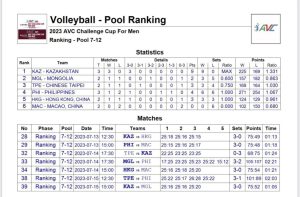 FINAL RANKING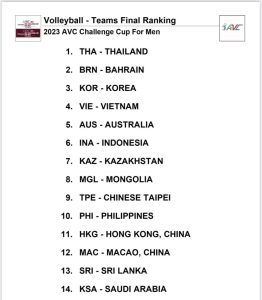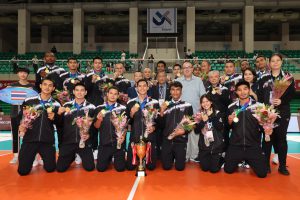 Champions – Thailand
Silver Medallists – Bahrain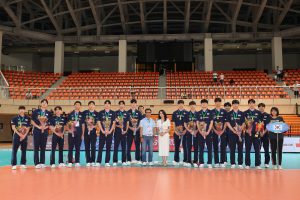 Bronze Medallists – Korea
INDIVIDUAL AWARDS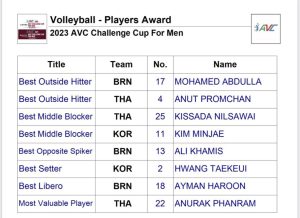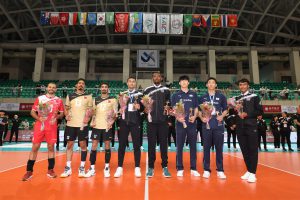 QUICK LINKS
AVC Website: click www.asianvolleyball.net
AVC Facebook: click www.Facebook.com/AsianVolleyballConfederation
AVC Twitter: click: www.twitter.com/AsianVolleyball
AVC Instagram: click: https://www.instagram.com/avcvolley/?hl=en
AVC Youtube: click: Asian Volleyball Confederation
AVC WeChat: Asian Volleyball Confederation
The post THAILAND CAPTURE AVC CHALLENGE CUP AND FINAL BERTH IN FIVB VOLLEYBALL CHALLENGER CUP IN QATAR appeared first on Asian Volleyball Confederation.