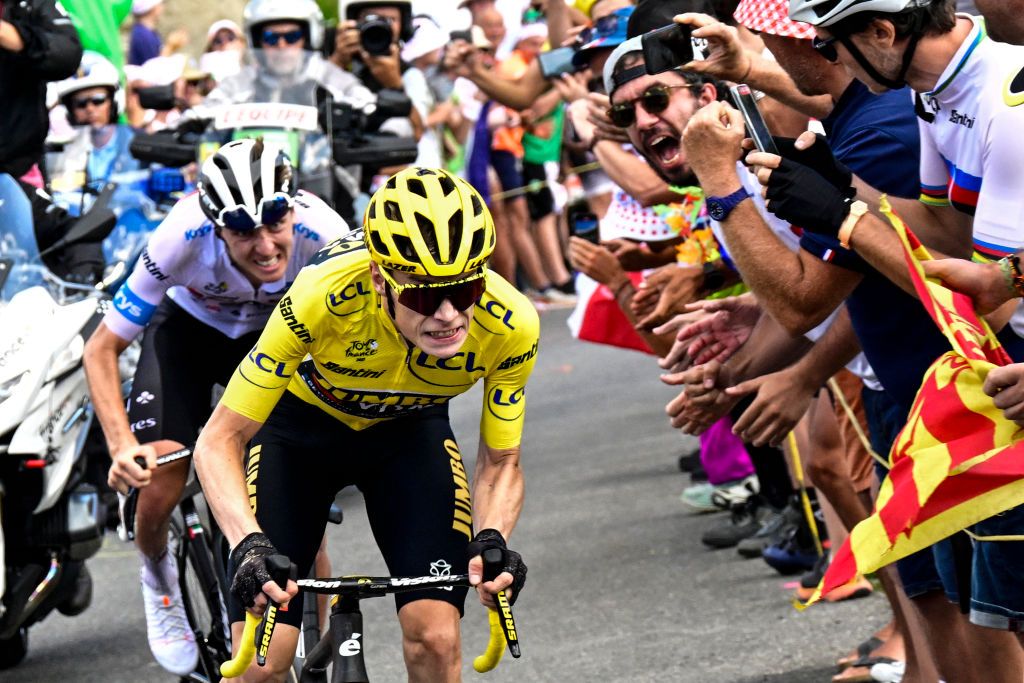 The last three mountainous stages in the Tour de France saw Tadej Pogačar steadily chipping away at Jonas Vingegaard's overall lead, when the race entered the Alps on Saturday the climbing pendulum swung back narrowly in the Dane's favour, allowing him to claw back a single second.
Much more importantly, long term than the minimal gain, what really mattered on Saturday's ultra-hard stage was that for the first occasion in over a week, the Jumbo-Visma leader showed he was able not just to resist Pogačar's mountain attacks, but to equal them. 
Dropped halfway up the brutally difficult Joux Plane climb when Pogačar roared clear with a trademark blistering attack, after a stiflingly tense two kilometres where the gap between the two remained all but frozen at around five seconds, Vingegaard then slowly but surely hauled himself back up to the Slovenian. A very different outcome, then, to each of the previous three mountain stages, where Pogačar, having attacked, has been able to keep Vingegaard at a distance.
Subsequently able to beat Pogačar (UAE Team Emirates) to the summit and snatch a time bonus – prior to which the Slovenian was blocked by race motorbikes when he sprinted for the top –  Vingegaard then was unable to match the UAE leader as they fought for second and third place in the finish at Morzine behind stage winner Carlos Rodríguez (Ineos Grenadiers).
The sum total of time bonuses for the yellow and white jersey holders saw Vingegaard net a second's advantage on Pogačar, on a day when Jumbo-Visma had opted to work hard on the front all the way through the stage. A minor gain, perhaps, but the key takeaway was how Vingegaard could keep Pogačar under far better control on the climbs.
"The motorbikes were very close on the climb and it would have been better if they hadn't been," the mild-mannered Vingegaard observed in one of his very rare publicly voiced criticisms, "but to talk about what could have happened – you'll never know."
Jumbo-Visma's tactic of keeping the break of the day on an ultra-tight leash and then going for the time bonuses was a new one, but Vingegaard denied feeling disappointed by only taking one second on his arch-rival as a result
"We always have a lot of plans, we showed that last year, and this year as well," he observed. "We will just follow our plan and hopefully I'll be in the yellow jersey in Paris, we'll see in the week.
"I still don't think this race will be decided on seconds, somewhere one of us will take a bit more time on the other."
Where Vingegaard put in a remarkable performance, in any case, was the degree of mental and physical resilience he showed as Pogačar cranked up the pressure to the maximum on the Joux Plane. Hard as it must have been on the hors categorie climb to see his rival so close ahead and yet so unreachable for two kilometres when both were pushing themselves to the maximum, Vingegaard not only held on but finally regained contact.
"He put in a very strong attack, had to go at my own tempo, luckily, it was enough to catch back up with him," Vingegaard explained.
Vingegaard then tackled the notoriously difficult descent of the Col de Joux Plane with Pogačar, and he explained that he had previously watched a film of the downhill section made by CPA President Adam Hansen to try to give riders an idea of what to expect.
"It was good to see the downhill," he said. "I don't know if you could call it dangerous, it's only as dangerous as you make it. If you crash, you've gone too hard, if you stay upright –  you haven't."
Although Rodríguez stayed ahead to win on stage 14, globally the first day in the Alps confirmed that Pogačar and Vingegaard are pulling further and further clear of all their direct overall rivals, with Jai Hindley's crash seeing the Australian lose some important time on the top two on GC and drop to fourth overall.
It's also almost gone unnoticed but thanks to his reaching the Joux Plane summit first, Vingegaard has also moved into the king of the mountains lead, tied on points with Neilson Powless (EF Education-EasyPost). 
In keeping with his typical non-committal stance, Vingegaard refused to say if he or Pogačar had been the moral winner on a day when neither rider could get the better of the other. 
"It's always hard to tell who that is," he said, "I don't think about that that much."
But as teammate Wout Van Aert observed, for now both Vingegaard and Pogačar seemed very evenly matched and if Vingegaard has raised his game in 2022, so, too has the Slovenian.   
"We're both pushing more watts than last year," Vingegaard agreed, "we're both going faster." 
As for who is definitively the faster of the two, for now, the answer to that question remains somewhere up in the Alpine air.