USA Team Handball released their final 18 man roster for the 2023 IHF Men's Handball World Championships yesterday. Here's a closer look at the roster: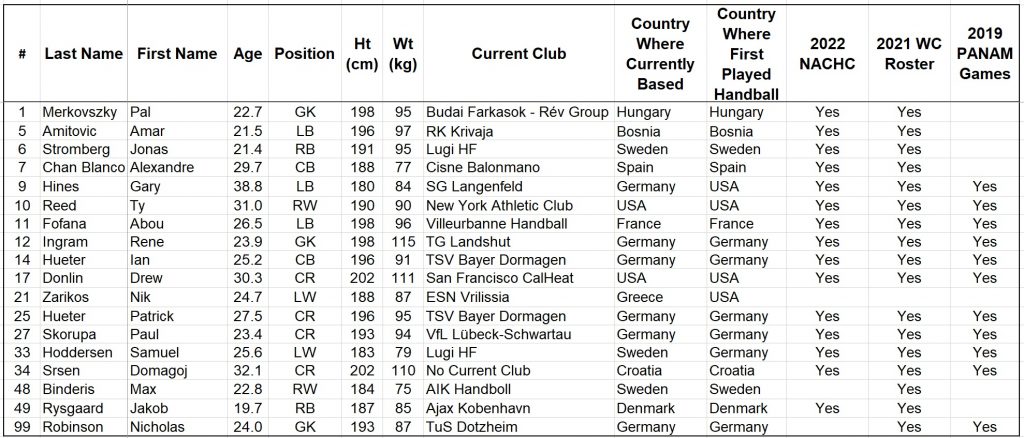 Coach Hedin and his team had invited 24 athletes to their pre World Championship Training Camp in Trondheim, Norway and Gothenburg, Sweden. These are the 6 athletes that weren't selected:

Overall, there was almost no change from the roster that would have participated in the 2021 World Championship, but had to withdraw due to several positive COVID tests. In fact, Zarikos is the only addition. Going back further, the core of the team from the 2019 PANAM Games is still there with 11 athletes from that team selected for this squad.
Here's a schematic of the roster by position with a few notes: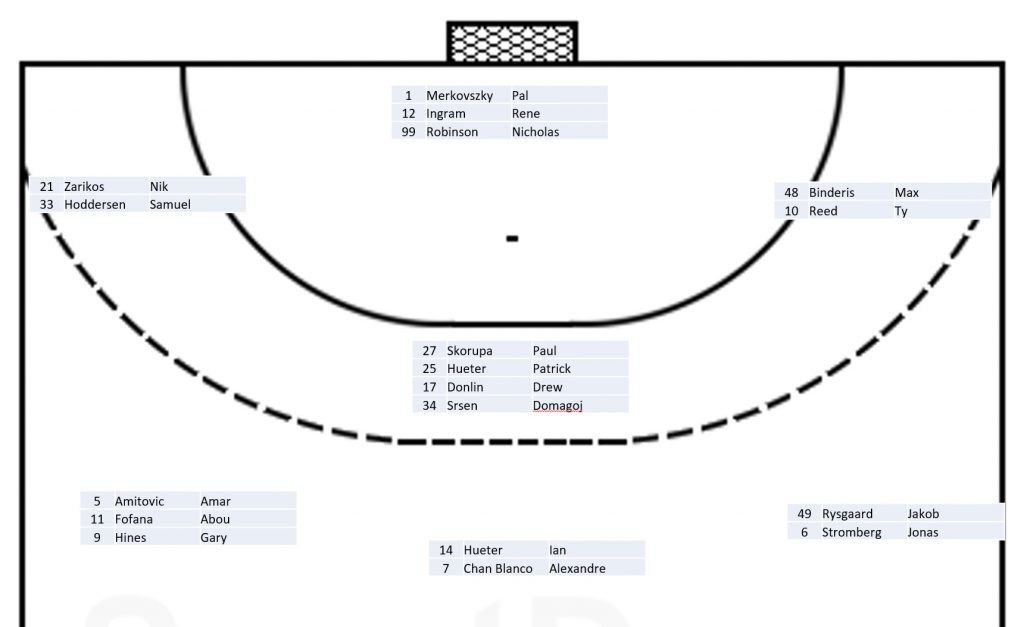 Left wing: Sam Hoddersen, who led the USA in scoring this past summer at the NACHC Championships will likely start and will probably play most of the time. Gary Hines might also play some wing as well
Left Back: Abou Fofana led the U.S. in scoring at the friendly warm up tournament in Trondheim. In his club career in France, he's actually been used mostly as a defensive specialist, but he's starting to get more playing time in the backcourt and has scored 33 goals this season. The biggest question mark will be his consistency and accuracy on long range shots. Hines, 38, is the team's veteran and he plays much younger than his age. His jumping ability his hard to miss and he may play some at left wing as well. Amitovic is less experienced, but played well at the NACHC Championships.
Center Back: Team Captain, Ian Hueter is the linchpin of the offense directing traffic and executing the attack. He does an outstanding job of getting everyone involved and his performance will be key to the U.S. having success in set offense attacks. Alex Chan, is also more than capable as he is leading the Liga ASOBAL in scoring with 100 goals in 15 matches this season. (Yes, this is not a misprint: an American is the leading scorer in Spain's top league.) Although, he is a natural center back he will likely play right back much of the time. Although out of position he will keep the ball moving laterally and will still find ways to score
Right Back: As mentioned above, Chan will likely play quite a bit at right back. Backing him up will be a pair of left handed youngsters, 21 year old Joey Stromberg and and 19 year old Jakob Rysgaard.
Right Wing: Veteran, Ty Reed, will likely get the nod here with Max Binderis backing him up.
Circle Runner: The U.S. is well stocked at this position with four big dudes that can play the position: Domagoj Srsen, Donlin, Patrick Hueter and Paul Skorupa. On offense Donlin and Hueter will likely get the most minutes and Srsen, who previously played for Hannover in the German Bundesliga should start on defense, rotating with Alex Chan.
Roster by Age
Here's a look at the roster from youngest to oldest. The average age of the team is 26.1 years old and is a good mix of veterans and relative newcomers. And, for anyone looking ahead towards LA 2028 a good portion of the roster will surely be available for selection 5 years from now when the U.S. hosts the Olympics.