Spanish sensation Carlos Alcaraz is the 2023 Wimbledon champion. He triumphed over Novak Djokovic in a five-set thriller, 1-6, 7-6(6), 6-1, 3-6, 6-4, that lasted nearly five hours.
Alcaraz will retain the No. 1 ranking on Monday for the 29th week.
At 20 years old, he is the youngest to win the title since 1986, when Boris Becker won at 18 years old.
In the first set, Alcaraz had a break point in the first game. Djokovic was able to hold, and he cruised through, as Alcaraz didn't have any rhythm and made a lot of errors.
In the second set, Djokovic was down a break and got it back, but was always behind in the game count. In the tiebreaker, Djokovic was up 3-love and 6-5. But he missed two easy backhands, and Alcaraz was able to take advantage.
In the third set, Djokovic's level dipped, and Alcaraz got better and better.
Djokovic left the court and changed his clothes, and it did help him to regroup.
In the fourth set, Djokovic got the break at 2-all. Alcaraz lost his rhythm, and Djokovic picked up his level.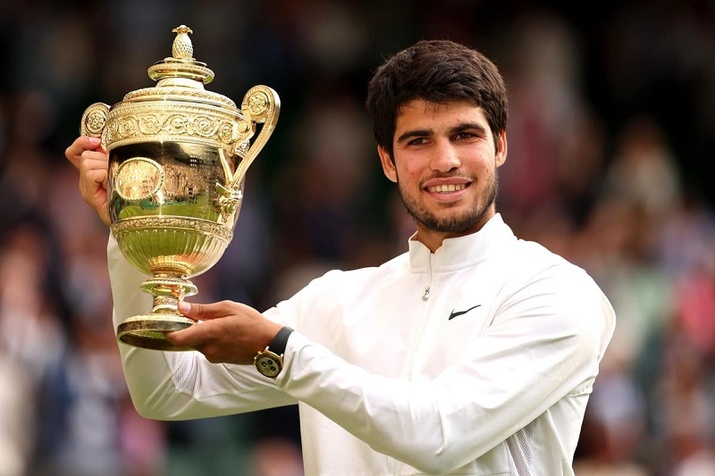 (Photo by Julian Finney/Getty Images)
In the fifth set, Djokovic started well, by saving a break point and holding. In the next game, he had a break point, but wasn't able to convert. At 1-all, Alcaraz got the break and consolidated to take the lead 3-1.
In the game where Alcaraz got the break, there was a forehand swinging volley that should have been an overhead that Djokovic hit in the net. That was a game point and perhaps the most crucial point of the match. After that, Djokovic struggled, and Alcaraz was serving very well with the break and kept the lead until the end.
It was a surprise because Djokovic is usually so good at the end. But he showed his nerves. If he hadn't missed that swinging volley in the net, then Alcaraz would have had the pressure.
Alcaraz showed his variety, with elegant lobs and beautiful dropshots. At 5-4, he made a magnificent stretch volley that showed that he would take it in the end. He also served incredibly well at the end, making six of six serves in the final game.
In his post-match press conference, Alcaraz said: "Well, feels great. It's a dream come true for me, being a Wimbledon champion, something that I really wanted. Honestly, I didn't expect to get it really soon. Yeah, it's time to enjoy and share everything, all my feelings.
"Yeah, as I said, it's a dream.
"Beating Novak at his best, in this stage, making history, being the guy to beat him after 10 years unbeaten on that court, is amazing for me.
"It's something that I will never forget, that's for sure. As I said, it's great for the new generation, as well, I think to see me beating him and making them think that they are capable to do it, as well.
"It's great for me and I think for the young players, as well.
"Yeah, it's big moment not just for me, but for my family, for all the people around me. It's really, really special moment.
"I start playing tennis thanks my dad. Really huge fan of tennis. I mean, he was watching tennis before I was born. It's crazy. His whole life, it's about tennis.
"I think for them, watching his kid making history, lifting the trophy, winning Wimbledon, is something incredible for them. For me to have them there, giving them a big hug, it's something that I will never forget. I hope to have a photo from that moment 'cause I'm going to keep forever."